Hozam Hardal- הוזאם הרדל
Hardal Hozam - Zreik
Email: huzam.hardal@gmail.com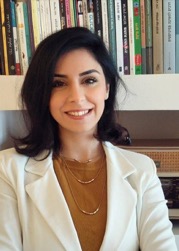 A Social Worker and a Counselor. Holds a Bachelor and Master's Degrees in Social Work – Child and Family Studies from Hebrew University of Jerusalem.
In 2016, I started my studies for Ph.D. degree in Social Work at Hebrew University of Jerusalem. My Ph.D. research focuses on the experiences of Palestinian Women in Israel who living in poverty cycle; their conceptions, the barriers and challenges facing them, as well as their ways of coping in order to deal with poverty. The research also focuses on community services that are supposed to help them breaking the poverty cycle and getting out of it and the dynamics of relationships between Palestinian women and these community services that are available to them.
Currently is working as a counselor of students at Technion with students who need to identify sources of distress and assist them to find efficient ways to cope with the academic requirements and personal difficulties.
Previously, I worked as an Emergency Line Coordinator at Assiwar (Arab Feminist Movement) that provides aid and support to female survivors of rape, incest, and sexual assault or harassment.
For the past few years, I have been volunteering in Assiwar. During my volunteer work, I accompanied women who experienced sexual abuse to hospitals, courts, and to police to file a complaint and to receive legal advice. Deciding to volunteer in Assiwar has been one of the most important decisions I have taken, and among the most unforgettable experiences of my life because I believe that sexual abuse is not only a sexual affront, but also a mental, physical, psychological, cognitive and emotional affront that may affect all levels, and therefore any assistance given in this context is a necessary assistance that many Arab women need it. Today I continue to volunteer in the same organization - "Assiwar" and serve as an executive board member in it.